EKGH Airfield information
IMPORTANT INFORMATION IF TRAVELLING TO EKGH FROM FOREIGN COUNTRIES!
If you arrive to EKGH from a non-EU country you will be checked by Danish Customs upon landing.
If you arrive from a non-Schengen country you will be checked by Danish Police upon landing.
Due to the limited size of Grønholt Airfield, you will never experience any delays as you will most likely be the only aircraft being checked.
---
Grønholt Airfield: EKGH
Location: N 55° 56.4' E 12° 22.9' - 2,4 NM south of Fredensborg Castle
Magnetic Variation: 1.5°E
Elevation: 97 ft
Radio
Grønholt radio: 122.500
Landing light is currently out of service
Opening hours
07:00 - 22:00 (local time).
Outside these hours the airfield is not open for landings.
---
Runway
Runways: 11-29
Dimensions: 3281 feet x 59 feet (1004 m x 18 m)

Runway 11
Runway 11 - course app. 106°
Runway 11 (106.0°M)
TDZE 97' (Touch Down Zone Elevation)
Lights: Runway threshold lights, Runway end lights og Runway edge lights.
TORA: 2.296 ft (700 meter)
LDA: 2.822 ft (850 meter)

Runway 29
Runway 29 - course app. 286°
Runway 29 (286.0°M)
TDZE 97' (Touch Down Zone Elevation)
Lights: Runway threshold lights, Runway end lights og Runway edge lights.
TORA: 2.789 ft (850 meter)
LDA: 2.296 ft (690 meter)

Runway lights
Currently out of service!
Approach briefing
Grønholt airfield is placed under heavy environmental restrictions. To limit the noice problems for our neighbors the following approach procedures should be followed. In general we always recommend to fly long finals as shown on the maps below.

Always remember to report both arrivals and departures in our journal. The journal is available online and you will receive the link and instructions when your PPR request has been approved.
Parking information
It is possible to park at the apron i the areas marked P1 and P2. P3 may not be used without written permission
We recommend, that you park as far south in P1 as possible. It is crucial that you do not use P2, if P1 is not completely full. We have aircraft with wide wingspan that crosses the apron in front of P2, which may be impossible of aircraft is parked at P2.
No parking at the fuel apron.
Overnight parking is invoiced with a fixed amount, which can be found at our pricelist.
Price depends on whether you need hangered parking or parking on the apron.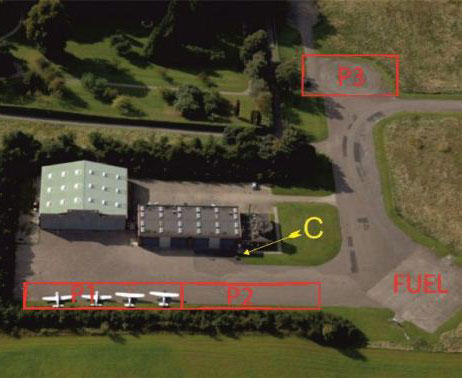 ADVISORIES
Never fly across the airfield in less than altitude 1.500 feet (1.400 AGL). EKGH is placed in uncontrolled airspace up to 2.500 feet.
Use Roskilde ATIS 123.800 in advance. The mentioned wind usually applies to EKGH as well.
Always take a good look at the wind sock which is located in the open area between the runway and the tower. If the wind is not as expected you may overshoot and make a new approach at the opposite runway. Always state your intensions at Grønholt Radio 122.500
Touch-and-Go's are not permitted at Grønholt
Taxiways parallel to the runways are NOT usable. Backtrack the runway and use the main taxiway to reach the south apron near the tower.
Approaches at night are very difficult due the forest and trees in both ends of the runway.